COMMUNITY WORKSHOPS
Our workshops are fun and suitable for people of all ages and backgrounds. No bike experience is needed as we have a number of roles for our volunteers! We are open on the days and times listed below – come and join us! Our only request is that you wear closed in shoes!
MONTHLY WORKSHOPS
Our opening days and hours are below.  Please note we will be adhering to the social distancing guidelines.
| | |
| --- | --- |
| Sunday 1 May 2022 | 9am – 1pm |
| Sunday 5 June 2022 | 9am – 1pm |
| Sunday 3 July 2022 | CLOSED (ILLNESS) |
| Sunday 7 August 2022 | 9am – 1pm |
| Sunday 4 September 2022 | 9am – 1pm |
| Sunday 2 October 2022 | 9am – 1pm |
| Sunday 6 November 2022 | 9am – 1pm |
| Sunday 4 December 2022 | 9am – 1pm |
WORKSHOP ADDRESS & bike drop off
Kimbriki Resource Recovery Centre
Kimbriki Road (off Mona Vale Road)
Ingleside / Terrey Hills, NSW, 2084
BIKE DROP OFF 
We accept bikes 7 days a week from 8am – 4pm at our designated drop off zone.  Our warehouse manager is in attendance EVERY Wednesday from 2-4pm if you would  like to see someone when dropping off a bike. Please note we only accept bikes in good working condition. If you are unsure if your bike is suitable, please send a photo of your bike to: [email protected] If possible, please prepare your bikes as indicated here. Please note that Bikes 4 Life are unfortunately unable to offer a pick up service.
ALL GENERAL ENQUIRIES
Sara Roe
E: [email protected]
Note:  Contact to be made via Bikes for Life only. Kimbriki are not able to respond to enquiries relating to Bikes 4 Life.
BIKE DONATIONS
Our Sydney Warehouse is currently only accepting bikes in
good working condition.
At this time we are unable to accept any bike parts, clothing, helmets or any other cycling related items. We have a huge backlog of donated bikes, which is fantastic, but we simply don't have the manpower at the moment to service bikes that require too much work.
If you are unsure if your bikes is suitable please email a photo to [email protected] . A guide on what makes a great bike to donate, is to understand that our bikes are being gifted to those most in need. We want to proud of the bike standard we supply and we definitely want the recipient to be proud to receive it.  So, please be proud to donate! A little bit of rust, deflated tyres and a broken chain is absolutely fine!
Thank you for your understanding.
Volunteer with us
We're always on the lookout for skilled, short and long-term volunteers for our bike workshop. No experience is necessary, however it's always welcomed! If you would like to volunteer at our Sydney warehouse, please contact Sara Roe to register your interest.
Note: If you have access to a truck/ute and are able to volunteer to collect bikes from people who are unable to deliver to us, then please contact Sara Roe. We often have requests for pick ups but currently don't have anyone able to collect. All volunteers need to complete an application form. Click here to download the form.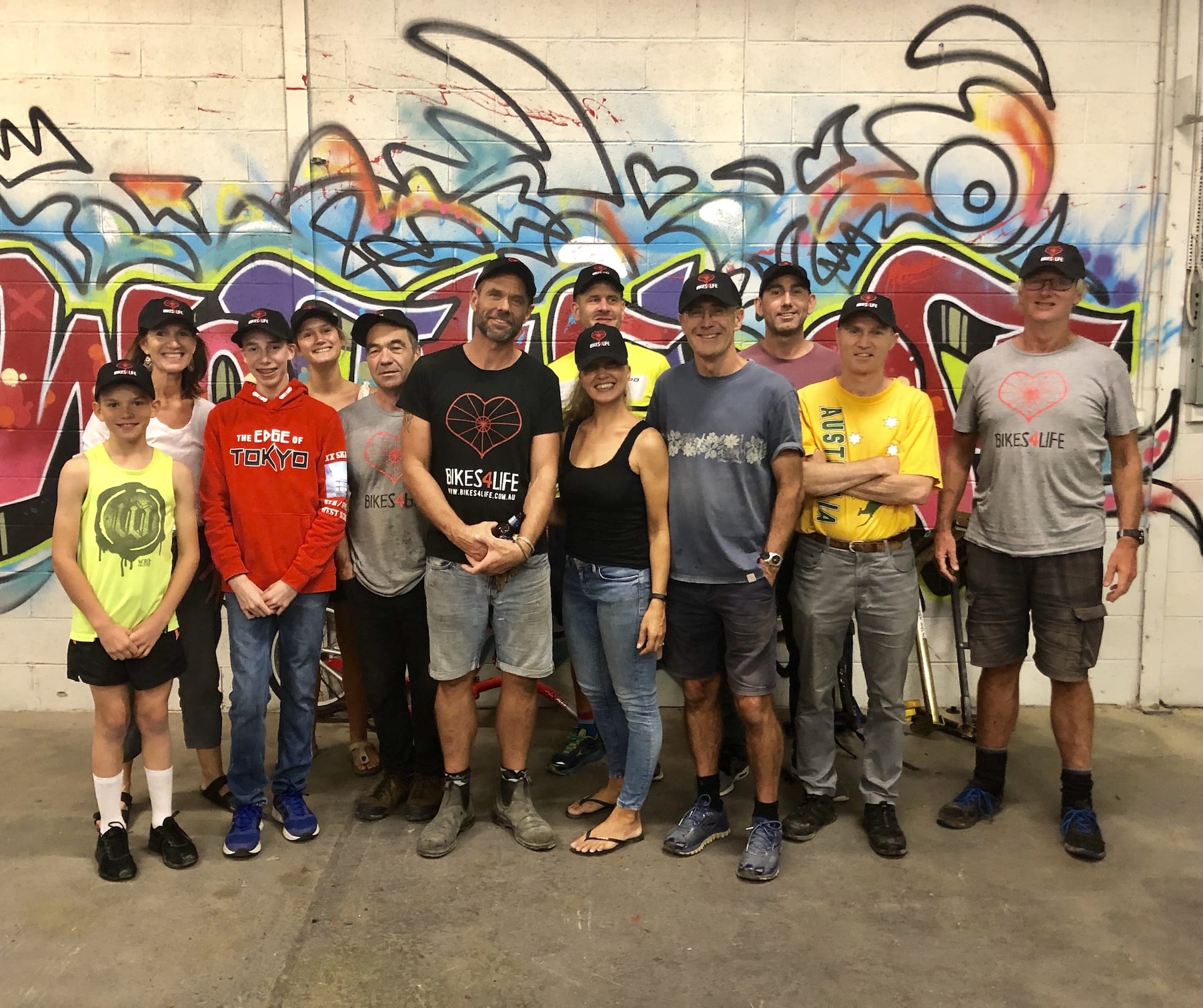 REQUEST A BIKE / PROJECT PROPOSAL
If you are an organization or know of a deserving organization that has a need for bikes either locally or internationally, then please contact Ebony Butler with your proposal. We are aiming to send approximately 5 containers of bikes per year and are currently looking for partners for our 2019 projects.